Description
Chris's arrest & refunds: Due to recent news regarding Chris, I am willing to issue full refunds, partial refunds, or cancellations with no refund upon request.  Simply email me at <[email protected]> with your order number from the email address you used for your order. State explicitly what sort of refund you would like.  Please do not wait to do this, I am having to calculate inventory.
These rounds are being made to order. Due to unprecedented demand for silver, it will take 13 to 15 weeks (from April 1st, not including COVID-19 production delays) for production to complete. Distribution will take additional time. Thank you for your patience and understanding.
Update (April 27th): The producer has converted the image to 3D rendering which will be used to produce the brass dies for striking.
Update (May 12th): The dies, which are used to strike the surface of the rounds, are being produced. This one is half-finished and both are expected to be done by the end of the month.
Update (May 30th): The dies are complete. The country of production are currently in COVID-19 related lockdowns and will be until June 14th 28th when the country reopens, which is no longer being given specific dates. I am hoping the first rounds are struck immediately after. I am very sorry for the delays.
Update (July 14th): There is still COVID-19 related production halts across the entire nation in the country of production. However, they were able to strike a single round for demonstration purposes. The edges on this demo round are not reeded; the final product will be.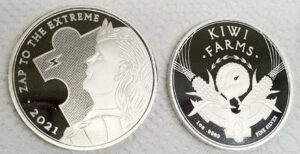 Update (July 22nd): There is still a COVID-19 order in place stopping production, but we got more demo images.
---
Quality: Bullion, Uncirculated
Purity: 99.99% pure silver
Finish: Polished
Container: Individually packaged in Coin Capsules.
Metal Weight: 1 troy ounce
Diameter: 40mm
Edge: Reeded
Observe: Christine Weston Chandler, "Zap to the Extreme"
Reverse: Kiwi Branding, "Mind Your Business"
---
Hobby Protection Act Disclaimer
This silver round is not a currency in any country. It is not meant to resemble any actual currency. This is a collectible sold as part of a fundraising event. The round will have a strike date of 2021, reflective of its actual striking date.