Description
700 of the coins have shipped.
600 are in the warehouse and will start shipping Monday, October 18th.
600 are on the way to the warehouse.
1400 are in production. There will be some left over.
Despite my requests, fulfillment is not shipping orders out in the order were received.
Update (April 27th): The producer has converted the image to 3D rendering which will be used to produce the brass dies for striking.
Update (May 12th): The dies, which are used to strike the surface of the rounds, are being produced. This one is half-finished and both are expected to be done by the end of the month.
Update (May 30th): The dies are complete. The country of production are currently in COVID-19 related lockdowns and will be until June 14th 28th when the country reopens, which is no longer being given specific dates. I am hoping the first rounds are struck immediately after. I am very sorry for the delays.
Update (July 14th): There is still COVID-19 related production halts across the entire nation in the country of production. However, they were able to strike a single round for demonstration purposes. The edges on this demo round are not reeded; the final product will be.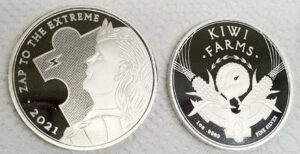 Update (July 22nd): There is still a COVID-19 order in place stopping production, but we got more demo images.
---
Quality: Bullion, Uncirculated
Purity: 99.99% pure silver
Finish: Polished
Container: Individually packaged in Coin Capsules.
Metal Weight: 1 troy ounce
Diameter: 40mm
Edge: Reeded
Observe: Christine Weston Chandler, "Zap to the Extreme"
Reverse: Kiwi Branding, "Mind Your Business"
---
Hobby Protection Act Disclaimer
This silver round is not a currency in any country. It is not meant to resemble any actual currency. This is a collectible sold as part of a fundraising event. The round will have a strike date of 2021, reflective of its actual striking date.